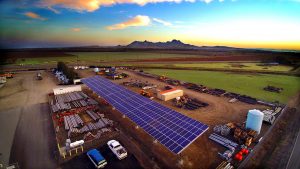 United Sun En
ergy:  Your Local Solar Experts!
The Smart Choice for Going Solar!
Your local solar experts!  Our solar installers are supervised by an in-house, hands on, general building contractor with an active B license.  United Sun Energy is local solar company committed to have the job completed on time using only premium components and workmanship. With a C-10 electrical contractor and over 30 years of experience, we have installed hundreds of solar systems. We have extensive experience with large commercial, industrial and agricultural systems. United Sun Energy offers a panel-to-panel 25 year warranty. We install roof mounts, ground mounts and shade structures for residential solar, commercial solar and ag. Solar installation is affordable and well worth it with no money down financing and no equity required.  United Sun Energy offers a unique financing program for non-profit businesses too! Call us today for a no obligation solar quote!
At United Sun Energy, it is our mission to empower our customer to make intelligent decisions that fit their needs.  We believe in building strong communities, using sustainable energy, protecting our environment and creating jobs and opportunities in the communities we serve by using our customer focused model.  Working together, we can do our part to help our communities and our planet in a way that provides a tremendous economic benefit to everyone. Being a local solar company, we serve the entire north valley.
Call Us Today for your No-Pressure Consultation at 530-345-0400